I am a tad obsessed with
Sex and the City
. I started watching when the show still aired on HBO, and have the entire series on DVD, which I now watch start to finish usually about once a year. I am one of those people who frequently quotes the show, and I often illustrate a point by saying, "It's like that episode of
Sex and the City
...." I am a Carrie, obviously, and even had a Mr. Big who also moved near wine country in California (he did not, however, return to rescue me from my pompous Russian boyfriend and declare his undying love for me--yet). Now that I'm in my early thirties, the age of the characters when the show begins, their stories ring even truer.
So when the CW launched its spin-off,
The Carrie Diaries
, a prequel that follows Carrie Bradshaw in her adolescent adventures, my interest was piqued. Part of me was also worried that the teen-based prequel would ruin the integrity of the original show, much like the second
SATC
movie did--a horror show of film that we will never speak of again. So it took me a while to actually watch. But Netflix gained the first season of
The Carrie Diaries
not long ago, and I spent a few days camped on the couch catching up. Verdict? It's super cute. I really like it. It isn't
SATC
, by any means, and I like that it's not trying to be. It's fun and light entertainment, and the fashion is
amaze
.
My bestie
Alison
gave me this incredible mega-shouldered jacket that I
debuted during my birthday weekend
last year. When I found a pair of yellow parachute lounge pants at Salvation Army recently, my first thought was combining the two garments in a sort of Eighties Powerhouse on Vacation vibe. Read: Larissa Loughlin, Carrie Bradshaw's boss at
Interview
magazine in
The Carrie Diaries
. Larissa is queen of the sculptural shoulder-pad and high-watt creative/professional fashion epitomized in the eighties. She's also a wild card and a true independent, and a definite style inspiration for the fierce.
So
Felina
and I teamed up, and she channeled her inner Bradshaw to my Loughlin for this museum photoshoot.
Larissa Loughlin.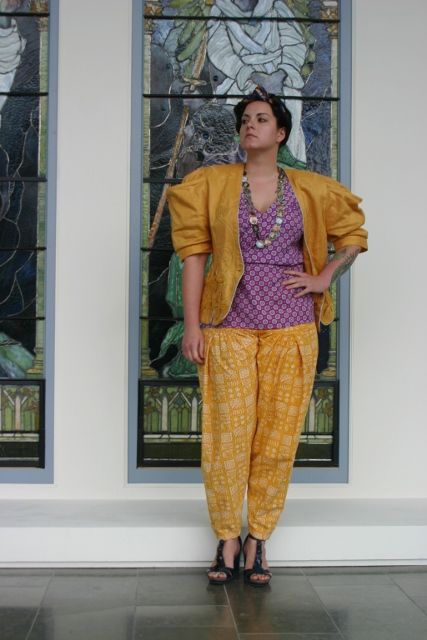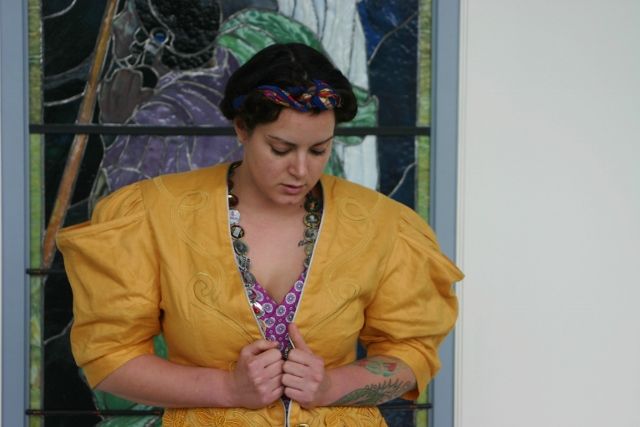 Teen Carrie Bradshaw.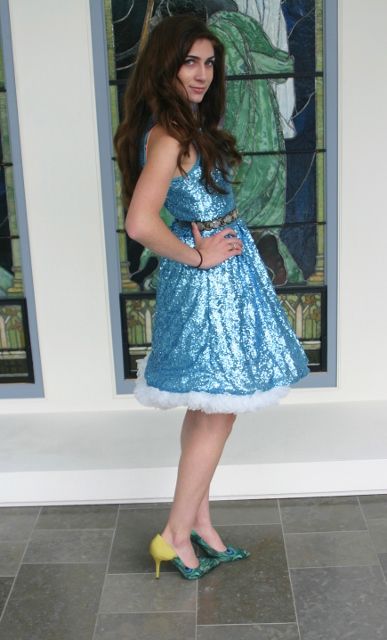 There's some speculation over whether TCD will be picked up for a third season--I'm still waiting on season two to hit Netflix, and I wouldn't mind a third. I feel like this is best a short-lived show anyway, to avoid running the franchise into the ground--although some would argue that's already been done. Thanks for reading, you're beautiful!