That's the answer to
last post's
uncertainty.
A couple of you reminded me of some important things in your comments and messages. First, that the importance of frequent posting is something bloggers make up in their heads (thank you, Radostin). I don't blog for the purpose of followers, or fame, or money, or recognition. I do it because it's fun and I like it, and it's a place I can document and organize certain things, and connect with other people who are doing the same. Secondly, my posts are most enjoyable for me and for readers when I'm connected to the substance of the post and I truly care about what I'm sharing. More than once since considering ending the blog, I have thought about
this post
, in which I wrote about being honest about your body. That post has gotten more page views than any other post I've ever done, and is the only one to ever be shared on Google Plus by a follower. Body image and self esteem have always been favorite topics of mine to discuss here (some posts on these topics were deleted when I completely overhauled the blog in January). Loving yourself, supporting other women, ending senseless cattiness and girl-hate between women, dealing with curviness--all topics that have had a special home here on this blog, and topics that I'm not done exploring. As if.
I think the pressures that led me to question continuing the blog have come from the wrong place: posting with enough regularity, being motivated to put on interesting get-ups every morning, feeling the need to catch every single post from the blogs that I follow and feeling inadequate when I just can't keep up. Those things defeat the purpose of
and this is peak
to begin with.
I
want
to blog. At one point, the maintenance of this space gave me a magnificent amount of inspiration to carry into the rest of my life, and encouraged me to look for the beauty in things, to formulate projects and ideas, to create things and share them with anyone who was listening. There was a wide-eyed innocence to that, which was lost somewhere in the technicalities of it all. In the algebra of it. How many posts times how often divided by who was reading it minus how many followers plus how radical my outfit is. Who gives a shit. What a headache. I just want to be inspired. Funny how inspiration can fill you so wholly, you feel lifted to the sky as if you've been pumped full of helium, yet can be so elusive when you aren't open to it.
Here's what I want to happen: I stop caring about any expectations of anything I do here. I post when I want, about things I care about. I seek inspiration where inspiration finds me, which may not always be in my closet. In fact, lately, my design obsession is less about dresses and more about light fixtures and chairs and wall art and carpet. I read your blogs to be inspired, which is why I started reading them to begin with. This is a place to explore and house that inspiration--it shouldn't be weighted down by obligation.
Current obsession? These jeans from H&M that I bought at the consignment shop I've worked at for the last few years (btw this is my last week before starting my new job and I am so ready to finally exit retail!). Jeans are tough for me because of my shape. I need a good amount of stretch, but too much can make a pair wear out quickly. I love the high rise of these, and how they stop just at my ankle. Lately I'm super into pairing them with shrunken vintage sweaters and
THE pair of shoes
I can never get enough of.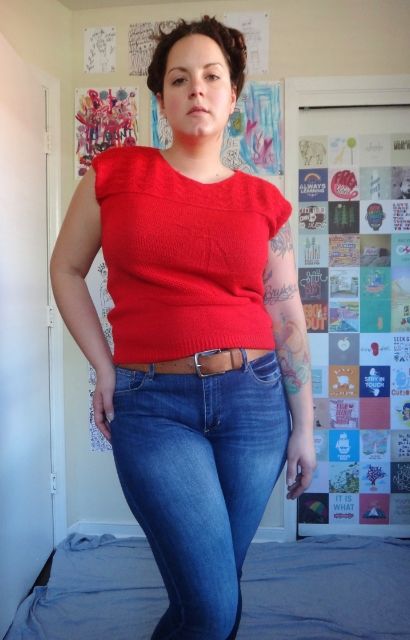 Thanks for reading. If you're a follower, thanks for following. You're beautiful.