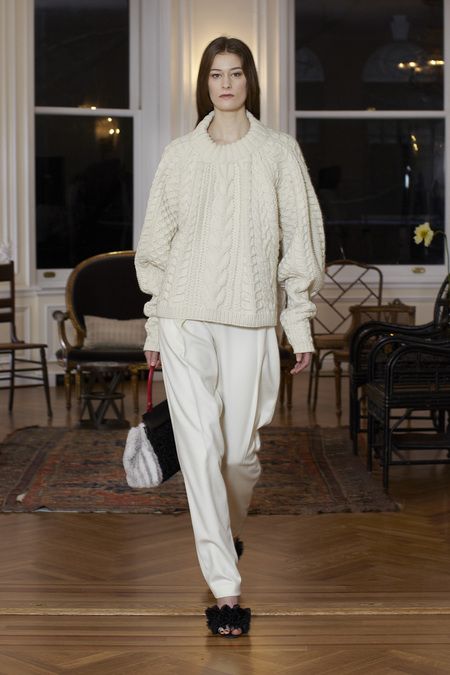 This picture, from
Style.com
of a look from The Row's FW13 collection, has rolled around in my mind since I first saw it earlier this summer. I was sifting through photos from the fall shows, filing away favorites to revisit when the weather actually turned cool. The slouchy pants are tailored and yet look like wearing them would feel akin to wearing uber-chic sweats, and the oversized, I-borrowed-this-from-my-dad sweater is ski lodge perfection, but it is the
shoes
that slay this look for me. Specifically, that the shoes are being worn with this particular look--the ease and casualness of the clothing paired with ruffled, heeled sandals that normally would be seen daintily anchoring a cocktail dress.
I immediately thought of a pair of marabou slippers I bought on clearance at Bebe many years ago. Yes, Bebe. I worked at the mall at the time, at a shoe store, and a girl came in carrying a pair of shoes she'd just purchased and wanted to compare to something we had. The shoes were retro-vixen boudoir, with fuzzy feathered tops and silver heels. When she told me she'd just gotten them on sale at Bebe, I called down there right away to see if they had my size. They did, and when I asked them to hold them, the clerk laughed at my urgency and said, "
No one
is looking at these shoes. You'll be fine."
I've always considered these "special shoes." The kind you only pull out for girls' nights out, cocktails at swanky bars, the premiere of the
Sex and the City
movie in 2008. I would have never thought to put them on with trousers and a fisherman's sweater, although now I can't see them with anything else. The heat is finally starting to break in Virginia, and soon sweaters will be my uniform. But I was itching to wear my marabou-casual about as impatiently as I was itching to buy them to begin with, so here is my summer version: denim sack dress, sleeveless houndstooth jacket, boho rings, and my marabou. Thanks for reading, you're beautiful.