Hey guys! So I move in exactly five days! Since I have so much going on right now preparing for that, I won't be posting this week. I'm probably literally going to wear the same pair of jeans every day anyway. But I'll be back next week, and I'll have a StyleLikeU Sundays video up. In the meantime, here's my last look at Spring Couture.
To better understand why I'm talking about couture right now, refer to this passage from last Tuesday's blog post:
It may be sort of weird to be talking about the couture shows during New York Fashion Week, but it's not like the seasons make practical sense in our lives anyway. I'm looking at the Fall shows as they come out, but I feel like I can't really get invested until, well, Fall. When the Spring shows went on a few months ago, I started to post my favorite looks and review them in the non-reviewy way I do, but it just felt wrong. The weather was cooling down, and I was gearing up for thermals and chunky sweaters, and I had a hard time relating to the silks and florals of Spring. So I decided to wait, and post my thoughts about the Spring collections when the actual, meteorological season of Spring begins. And then I can actually infuse the inspiration into my wardrobe choices and live it, rather than pine for it like I usually do.

And yes, I get the business side of why collections are shown so far in advance. Stores must place orders, production must get underway. But for those of us who view the collections for inspiration purposes or because we like to review them on our blogs or incorporate them into our outfits, it makes more sense to just wait. So while I'm checking the Fall goods out, I won't be talking about them until September. And pretty soon I'll be digging through the SS/13 archives on Style.com and Vogue.com to comment on those collections and try to recreate my favorites. In the meantime, though, I decided to do a couple posts about my favorite Spring couture collections.
I pretty much loved Giambattista Valli's entire couture show, and I highly recommend you check it out at either
Style.com
or
Vogue.com
because it is beautiful. The lines are super-feminine and glamorous, and the garments are so pretty. I love pretty. But my favorite part about the collection is the marriage of ball gowns and slim trousers, seen in the photos below. I can't recall having seen this done before, and if it has been done, I don't think it's been done this elegantly. The proportions are perfection.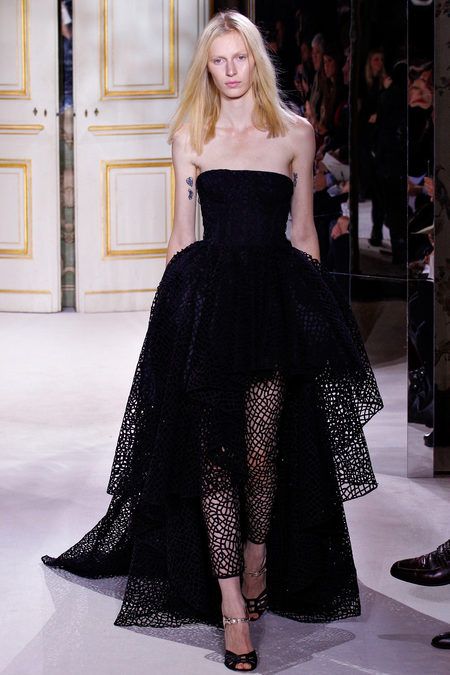 Jean Paul Gaultier is giving me 70's, Grace Jones realness! His collection is dramatic and exotic, and I'm picking up some east Indian undertones as well. I like how Gaultier has fun with his collections, and this one I think he really nailed it.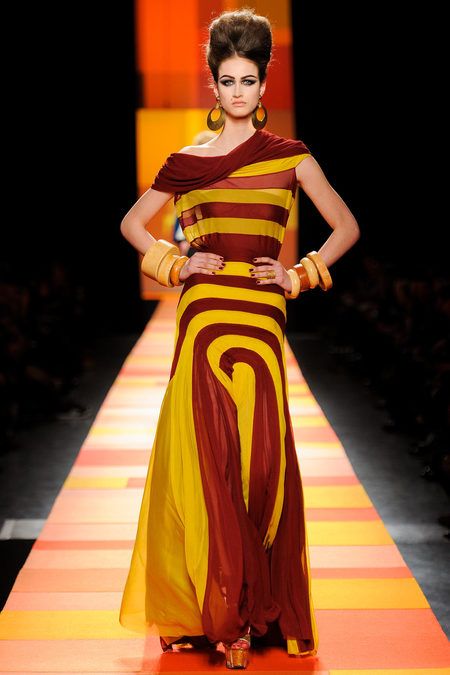 Maison Martin Margiela is not a house that I have followed religiously--I scan the collections, and sometimes something catches my eye, sometimes not. This couture collection peaked my interest though, as it often happens when I get interested in a particular designer or label. It's often one piece or one collection that reels me in, and makes me want to see what else they put out. This is interpretive fashion, artistic fashion. Fashion for fashion's sake, and not for the sake of covering your body on a Tuesday. Unless you are incredibly awesome. And speaking of incredibly awesome, that feather crop top in the second look. A few of my favorites.
Ok, lovelies, see you next week! Thanks for reading, you're beautiful! All photos in this post from Style.com.