I've been meaning to return to regular outfit postings for a while now and finally I feel like I'm there. I have tons of new clothes to debut, and the sun is out longer for better lighting, and I set up my tripod in my office for quick self-timed shots before I run out the door. Life is good--I'm working every day, but still have plenty of time to see friends, and do spoken word, and work on my novel. I'm in the zone, and I feel balanced. I'm so excited for summer and I'm looking forward to getting outside more, even if for a cocktail on someone's patio.
A few nights ago I met some girlfriends for backyard drinks and snacks. When originally invited to meet "for drinks," I thought we'd be going to a bar so I decided to wear my new zebra jumpsuit. Later my friends decided to meet at one of their houses and hang alfresco, and I thought, well screw it, the jumpsuit feels like pajamas, so that's sort of casual, right? I swapped heels for sandals with a slight wedge and threw on a crocheted cardigan. I'm sort of into jumpsuits right now, which actually feels like a party I've arrived really late to. This zebra number feels comfy enough for backyard drinks, but with heeled sandals and some bling, it can be easy glam for going out too. The only thing that's awkward about onesies is how you have to basically get naked to pee.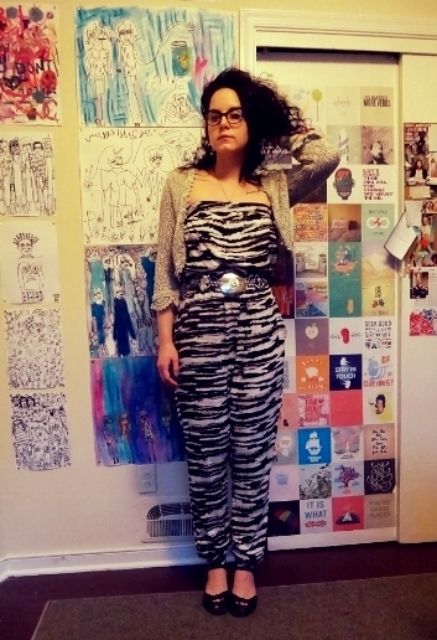 Jumpsuit is H&M, although I bought it at a thrift store. Thanks for reading, you're beautiful.