Oh HI.
This is my first real blog post in quite some time, and I'm pretty excited about that. A return to the blog! It lives on! As many other pursuits enter my life and take up my time, I just can't seem to say goodbye to this precious little space. When I look at this page, I see little pieces of my insides in the components of my header collage, in the colors that remind me of shells and seawater, in the loosely stitched-together themes and posts and design. I can't give it up. I find it too beautiful.
Things that are happening:
This is my first blog post as a skinny person. Since giving up starches and sugar last spring, I have lost 45 pounds, which is part of why I haven't blogged much in the last year. Nothing I own fits. I haven't bought new clothes, and my old clothes remind me of a time when my closet gave me as much anxiety as it did inspiration--yes, this dress is fabulous, but will it
fit?
When I was heavier, that question caused me to ignore many items in my closet. I had no idea
how
some of these things fit, because I avoided trying them on. I felt restricted to certain items that felt safe, and sometimes it felt like I wore more outlandish things to detract attention from my body. If I wore this absolutely fabulous kimono/caftan/dashiki with a load of layered necklaces and a turban, would anyone notice my extra pounds? Being heavy gave me freedom in my wardrobe this way--I was less concerned with how thin I looked because I
wasn't
thin, so why pretend to be? Instead I could be fabulous. Instead I could indulge my love of ridiculous clothing.
But I was restricted. Certain garments just wouldn't work with my body, no matter what size I tried. Certain shapes and styles just weren't options. I felt limited in my wardrobe choices, one of several reasons why I decided to lose weight to begin with. My body is naturally curvy at any size, and the bigger I was, the harder it was to find things that fit my hourglass shape. Things that fit my bust and hips were too large in the waist. Things that fit my waist would never make it around my breasts and thighs. Being thinner evens things out a bit.
Being thinner does other things too. It freaks me out. Being fat is frustrating, but being thin is frightening. There's a part of me that keeps thinking this isn't real, that tomorrow I'll wake up with those lost 45 pounds bulging under my pajamas. I fear losing too much weight, I fear not being able to keep it up (although the weight loss itself has been virtually effortless and I've never felt healthier), I fear I've somehow sold my soul to the devil and one day he's going to come collect. I never thought I would ever be this thin again. When you want something, and you do not believe it will
ever
happen, and then it does and it feels easy and right and good, there is nothing scarier. Something opens up in your chest when you realize
you can have the things you want
, something that feels like hope and glory and fright. One day I'm going to land a book deal and publish my novel, and I'm going to own a home, and be in love with a wonderful man, and I'm going to think, holy shit what if it all goes away?
Living in the moment is not my strong suit.
I wore this today, a dress I've had for years and worn at a few different weight fluctuations. Currently it's a little loose and works with a belt. My father gave me the cape for Christmas. It's vintage, I forget what decade, maybe the sixties? In the weeks to come, I'll be digging through my closet to find which pieces I can wear at this size until I revamp my wardrobe next month. Forgive my pallor--I'm getting over a head cold.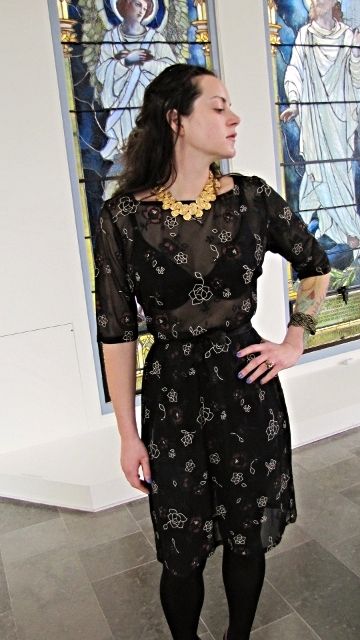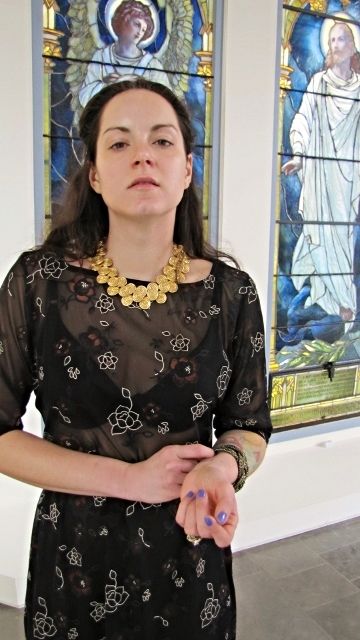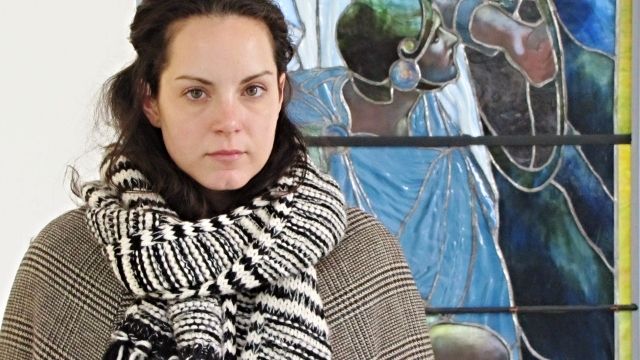 Thank you for reading, you're beautiful.