About six months ago, inspired by a friend, I made some changes to my eating habits. I cut out starchy carbs like bread, potatoes, rice, and pasta, and pretty much all sugar except fruit and alcohol. At last count, I've lost about thirty-five pounds. And it feels amazing--physically amazing because I have more energy, and feel less hungry and lighter and stronger, but also amazing in a purely emotional, vain sort of way. In the way that makes media depictions of ideal female bodies relevant because, as much as we want to blame the media for our rat-race to impossible beauty standards, we genuinely want to feel skinny. We genuinely want to look the way the media tells us we want to look. We could have a chicken-or-the-egg debate about it--which came first, the perfume ad or the anorexia--but isn't that why those Hollywood depictions of femininity bug us so much? Because they're on to something? Because we do covet tiny waists and thigh gaps?
To be honest, as I've watched the pounds melt off all summer, I've wondered how I'm going to write about it. Because I've spent the last four years exploring the topic of positive body image on this blog (
note: the first two years of posts have been deleted from this site
). I've posted
pictures of myself in a bathing suit while rallying for body acceptance
, and
written about Internet-stalking my ex's skinny new girlfriend and in defense of Lena Dunham's awkward naked body plastered all over her show Girls
. I literally almost did a post on the anniversary of
"In Defense of Honest Body Image"
in which I wore the exact same bathing suit from a year ago and posted side-by-side images of then and now--which basically felt like one of those diet speed pill ads in the back of my
US Weekly
. I was like, how do I show you guys what's happened, and also talk about it in a way that doesn't make me feel like a hypocrite? Because none of my clothes fit me anymore, and I'm stoked. Because I had to buy new jeans a couple weeks ago and it was fucking amazing. Because I don't measure my self-worth in terms of how I look, but I do measure my waistline (28 inches as of this morning).
Does losing weight make me a bad feminist? Am I buying into the whole patriarchal idea of female worth? I don't fucking know. I used to hate that famous Kate Moss quote, "Nothing tastes as good as skinny feels." I thought Kate Moss was an idiot, because I've tasted some really amazing shit. But now I'm like, yeah, she's got a point there. Skinny feels really fucking good. (Also I would like to note that sugar and french fries have an addictive quality, and when you stop eating them and break the addiction, they really don't taste that great anymore. Lest you think I lost my mind somewhere in those dress sizes.)
It's a very strange, delicate thing to experience a thrill from losing weight and yet hold dear to your heart the importance of healthy self image for women. It sort of makes you feel like a traitor. Sometimes I feel like a shitty feminist anyway, because I really want the dude to pay on when I go on dates and I take a lot of selfies. Whatever. I just want to be honest, and isn't that what matters in terms of women's lib anyway? The freedom to be ourselves, as complicated and diverse and flawed as that may be? What if a lot of my flaws are on the inside?
Here's another interesting thing about losing weight--part of the reason I wanted to do it to begin with is because clothes look better on smaller people and there were things I couldn't really wear anymore, and I thought that being skinnier would open up my sartorial choices.
And since I lost weight, literally all I want to wear are T-shirts and jeans.
The other day I wore a white button-down shirt, and that was really fashiony for me. (Also I had on this menswear jacket that has a really amazing cut and these killer studded pumps, but whatever because my outfit was all about that button-down.) Is there something about being comfortable in my body that makes me want to shed all the crazy shit I wear and put on a tank top instead? I might just be getting lazy about it, honestly, because lately if I'm not at work, I'm at the cafe working on my novel, or I'm at this spoken word open mic I've been going to, or I'm at home, like right now, in my office, writing writing writing writing.
Plus nothing in my closet fits anymore anyway.
I took the photos below this evening. I'm literally wearing exactly this right now as I type, which is pretty rare on this blog. Or anyone's. It's sort of become my uniform. Actually, last night when I got off work, I put on this exact tank and these exact jeans and practiced this poem I think I'm going to perform at that open mic. I'll probably wear this tomorrow night too, after work, and practice my poem and work on my novel and drink beer in my office and listen to Nirvana.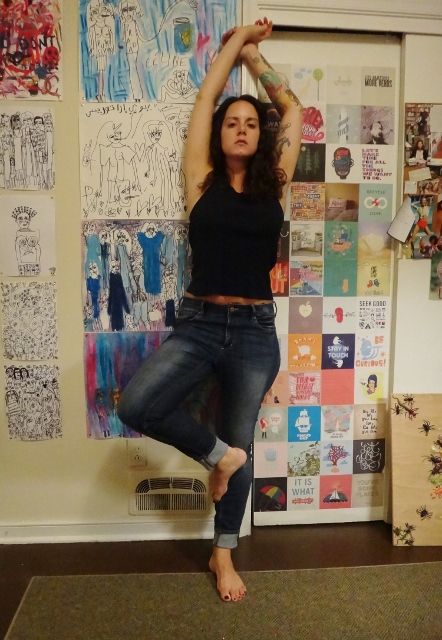 Thanks for reading, you're beautiful. I still think so.